Our three-part Oncology – Clinical Negligence Mini-Series provides a comprehensive overview and practical insight into legal and medical aspects surrounding clinical negligence in oncology cases. Experts in the field join leading barristers from 12 Kings Bench Walk to discuss the complexities of establishing a breach of duty, causation, and quantum in these types of claims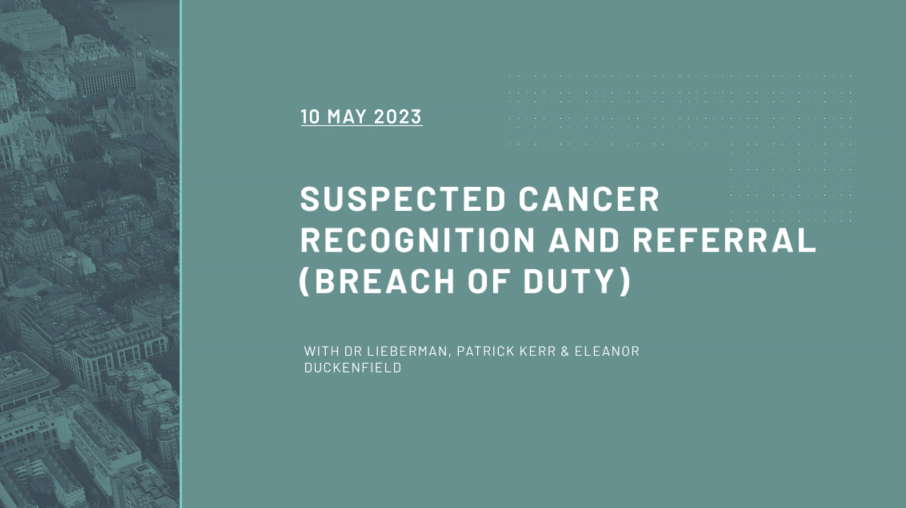 Suspected cancer: recognition and referral
Eminent General Practitioner and experienced medico-legal expert Dr Lieberman will be discussing the key issues regarding a GP's duty to patients who have suspected cancers. Barristers Patrick Kerr and Eleanor Duckenfield are also speaking about the practical challenges in establishing breach of duty in these types of cases.
Dr Jonathan Lieberman
Dr. Jonathan Howard Lieberman, of St. Gabriel's Medical Centre, 4 Bishops Road, Prestwich, M25 0H.

I qualified from The Royal Free Hospital School of Medicine (University of London) with M.B., B.S.in 1982.

I attained M.R.C.G.P. in 1987 and completed a full vocational training programme in General Practice.

I was appointed a full time Principal in General Practice in 1987.

I was Joint Senior Partner from 1994 onwards.

I was Diabetic LEAD from 1996 – 2013.

I have been advising in Medico-legal matters since 1993.

I have produced more than 35,000 personal Injury Reports and over 5,000 Clinical Negligence advice reports.

I have lectured widely on both Medical Ethical issues and at Clinical Negligence courses and Seminars.