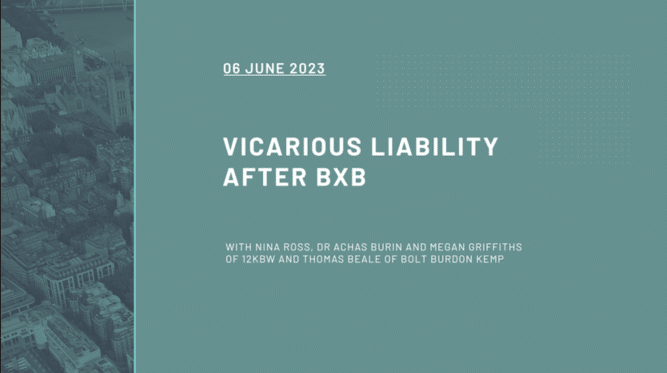 Nina Ross, Dr Achas Burin and Megan Griffiths of 12KBW and Thomas Beale of Bolt Burdon Kemp discuss the Supreme Court's recent judgment in Trustees of the Barry Congregation of Jehovah's Witnesses v BXB [2023] UKSC 15 and its implications for abuse / other personal injury claims.
Thomas represented the Claimant in BXB.
Thomas Beale
Thomas is a Partner in the Abuse team at Bolt Burdon Kemp having joined the firm in March 2018.
Having qualified as a solicitor in 2009, Thomas represents survivors of child abuse.  He has successfully brought claims against St John's Ambulance, The Scout Association, local authorities, schools, various religious institutions and family members.  More recently, he has developed an expertise in claims arising out of sexual abuse suffered by pupils in private schools.
Thomas also represents many former residents of Shirley Oaks Children's Home and is experienced in making applications under Lambeth Children's Home Redress Scheme as well as pursuing civil claims against the council.
In the landmark case of A v Watchtower [2015] EWHC 1722 (QB), the first judgment against the Jehovah's Witnesses in the UK for sexual abuse, Thomas assisted in bringing this case to court.
Previously, Thomas successfully represented hundreds of claimants injured in the course of their employment, acting for both private clients and trade union members.
Thomas is extremely passionate about his work and committed to getting the best possible results for his clients.  Thomas believes excellent client care is paramount, approaching every case with the sensitivity and the understanding required.  Thomas is a strong litigator and fights to obtain the maximum damages for all of his clients as well as ensuring that they have the support needed throughout the entire litigation process.
He is a dedicated member of both the Association of Child Abuse Lawyers and the Association of Personal Injury Lawyers.
As an expert, Thomas regularly appears in the media to offer his opinion on the developments in child abuse law, appearing on ITV News and in The Guardian, The Telegraph and Manchester Evening News.
View full profile